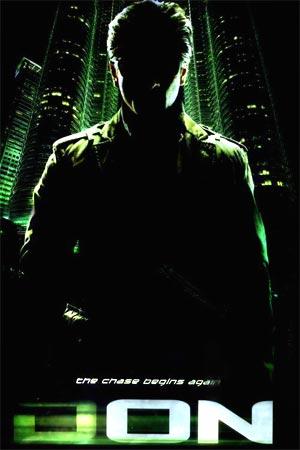 Reviewer's Summary -

Below Average



Language: Hindi
Year: October 20, 2006 in the U.S.
Actors: Shahrukh Khan, Priyanka Chopra, Arjun Rampal, Isha Koppikar, Boman Irani, Kareena Kapoor, Om Puri, Pawan Malhotra
Director: Farhan Akhtar
Producer: Ritesh Sidhwani
Story :Javed Akhtar & Salim Khan
Screenplay & Lyrics:Javed Akhtar
Music: Shankar, Ehsaan, Loy
Dialogs: Farhan Akhtar & Salim Khan


The new Don starring Bollywood superstar Shahrukh Khan is not even half as good as the old DON

(which although a big hit was itself just an average movie).

Lacking any merit, the much-hyped new Don - a remake of the Old DON - never sent our pulses racing and is a litany of flaws, both big and small.

Poor editing, passionless performances by lead actors Shahrukh Khan and Priyanka Chopra, a bird-brained story, sloooow pace and mediocre photography combine to provide a disappointing experience to viewers.

Our eyes strayed often to the Exit sign at the AMC Loews Theatre in Cherry Hill (New Jersey) because of the slow pace of the movie.

Featuring Shahrukh Khan in dual roles, the story in the new Don is much the same except for a few twists.

Shahrukh Khan is Don, the notorious criminal wanted by the police in several countries. This ruthless criminal has dropped anchor in Malaysia, from where he carries out his smuggling, drug peddling and other criminal activities.

Don's nemesis is Deputy Commissioner of Police D'Silva (Boman Irani), who nabs him in one of their encounters and then hires a street performer Vijay (Shahrukh Khan) to impersonate the ace criminal to capture the entire gang.

When the police officer is killed, Vijay is left in a dangerous situation. The cops refuse to believe Vijay's account of being a police informer but the criminals quickly realize he's an impostor.

Priyanka Chopra is cast as Roma, who enters the Don's lair to kill him in retribution for her brother's death at the criminal's hands.

Kareena Kapoor plays the role of sexy Kamini, seeking to avenge her boy friend's murder by Don. Kareena Kapoor's dance number of the Ye Mera Dil song failed to send our adrenalin rushing, the way Helen did with her sensuous dance.

One of the biggest disappointments in the new Don was the lethargic acting of both Bollywood King Shahrukh Khan and Priyanka Chopra. The two stars can't hold a candle to Amitabh Bachchan or Zeenat Aman, the lead pair in the original 1978 version of Don.

Shahrukh Khan is not an electrifying actor but then his co-star Miss World Priyanka Chopra is worse.

Fortunately for the audience, Priyanka Chopra does not have much of a role. This luminous beauty seems oblivious of the basic principles of acting let alone the nuances. Ms.Chopra wouldn't pass a screen test for a crowd scene in Hollywood.

For long, Shahrukh Khan has been coasting along on his reputation. Don should be a wake up call to the superstar that even patient Bollywood fans can take only so much rubbish.

The talented Boman Irani is effective as the police officer D'Silva but Arjun Rampal is no patch on Pran's portrayal of the character Jasjit.

Don's music is average. Our favorite songs were Aaj Ki Raat and Main Hoon Don.

If you thought Zeenat Aman's stunt scenes were crude in the old Don, Priyanka Chopra's bizzare antics leaves you just numb in horror.

You need a stomach of iron to put up with the tripe dished out by the trinity of director Farhan Akhtar, Shahrukh Khan and Priyanka Chopra in Don. All in all, the new Don is a wanton insult to Bollywood fans the world over.

When Hollywood directors like Martin Scorsese are turning out fine action movies like The Departed (Jack Nicholson, Leonardo DiCaprio, Matt Damon), Bollywood freaks are busy churning out pitiful remakes of old hits like Don. What a shame!!!!